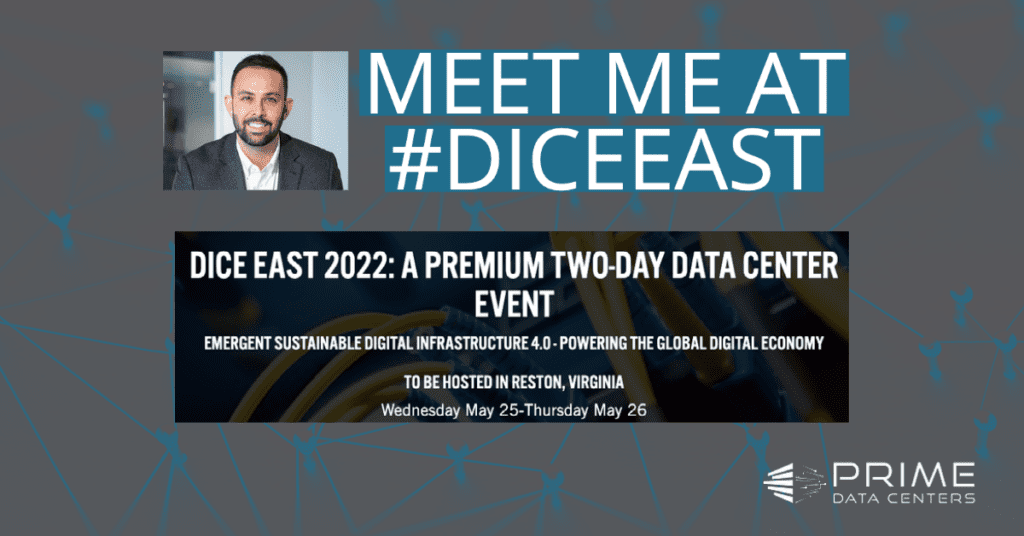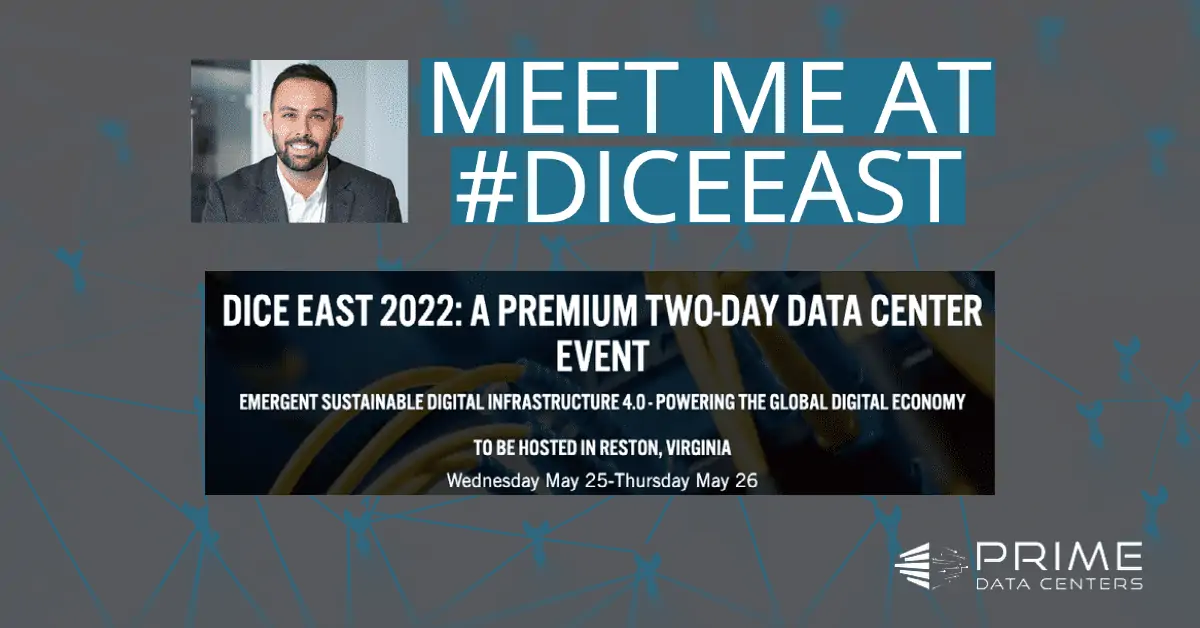 Event season is in full swing and bigger and better than ever. Industry professionals from across the globe are gathering at some of the most renowned infrastructure events to network, provide insight and, well, get away from behind the screen. From conferences in Monaco to Hawaii to New York City and D.C., the Prime Data Centers' team has been at the center of them all. As we rev up to hit the road again, our team is headed to Virginia for Bisnow's two-day event, DICE East 2022, held on May 25-26.
This premium data center event hosted in Reston, Virginia, at the Hyatt Regency Reston promises to tackle how the emergent sustainable digital infrastructure 4.0 is powering the global digital economy. Throughout this two-day conference, there will be over a dozen keynotes and panels ranging from modular data centers to the challenges and risks of operating in dense markets.
However, the main focus of this event is data center sustainability, and there will be several sessions to tackle this topic, including the Green Design and Build: Fact or Myth panel that stands to answer the question: Are you truly able to design and build an energy-efficient data center that addresses Scopes 1, 2 and 3 of the Carbon/GHG Protocols?
Green Design and Build: Fact or Myth Panel
This insightful panel is being held on Thursday, May 26, at 1:45 p.m. ET. Joining the esteemed panel is our very own Senior Vice President of Design & Construction, North America, Jonathan Gibbs. The discussion will look at whether claims of efficient sourcing and construction are overstated. In addition, the panelists will be tasked with answering some of the most critical questions around data center sustainability and practices, including:
What type of impact are tech giants and data center developers actually having?
Are we developing best practices fast enough?
Other distinguished panelists joining Gibbs include leaders from Digital Realty Trust, Yondr Group, and Shockey Precast, a Metromont Company. This not-to-be-missed panel is being moderated by Ross Miles, Manager, Mission-Critical – Eastern Region of Turner Construction.
Data Center Conference of the Year
In addition to the green design and build panel featuring Prime's Jonathan Gibbs, the event promises to deliver unmatched education across sustainably and today's most talked-about key data center topics. What's more, attendees will have the opportunity to network and rub elbows with city officials, investors, end users, providers, and consultants. And, of course, several of Prime's industry titans will be there to meet, network, and discuss the evolving dynamics of the North American data center market and beyond.

To book a meeting with Prime at DICE East 2022, contact us now.