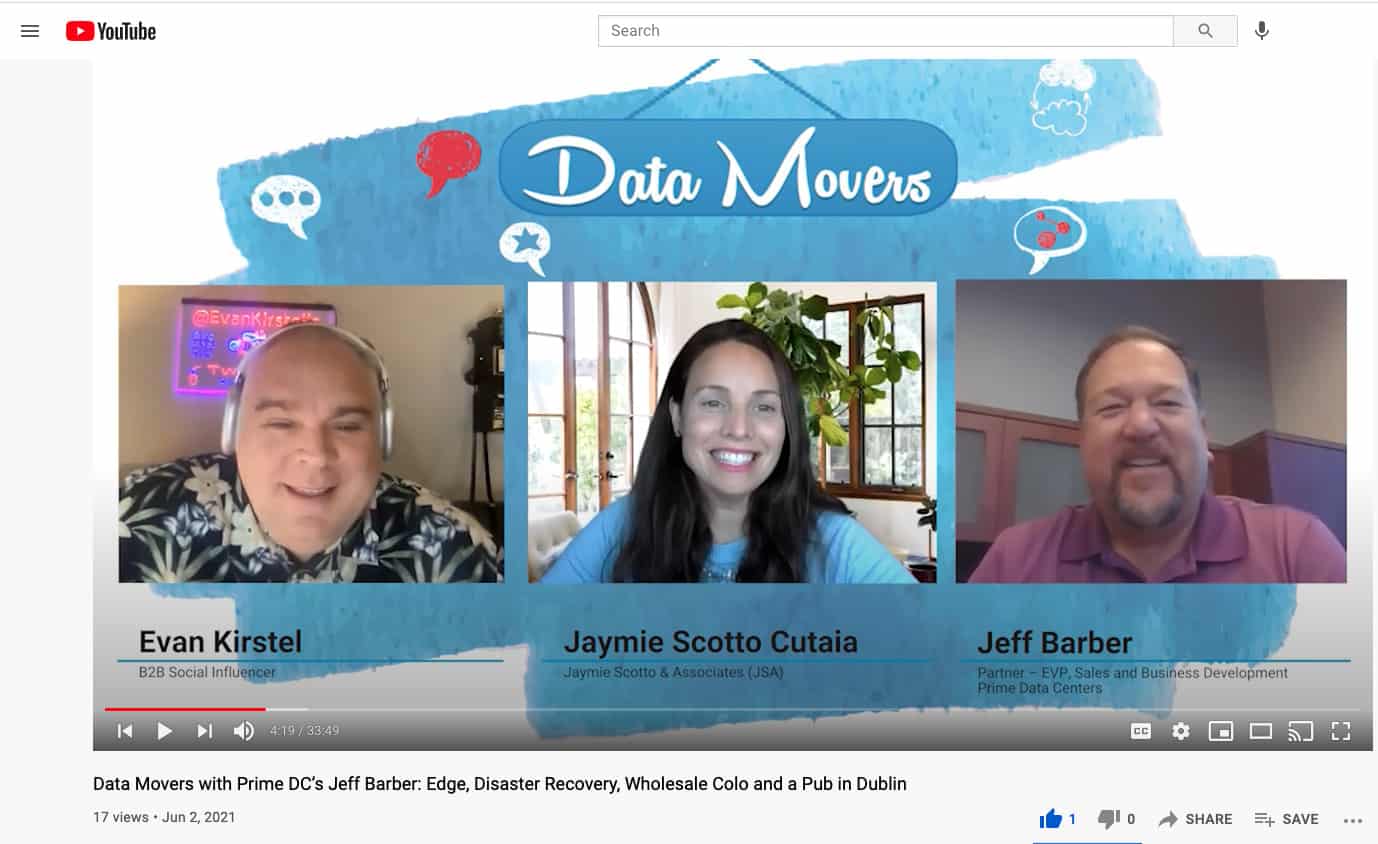 Jeff Barber, Prime Data Centers' Partner and EVP of Sales and Business Development, recently joined industry leaders Jaymie Scotto Cutaia and Evan Kirstel on JSA's Data Movers podcast to discuss the complexity of enterprise workloads and the digital infrastructure that is driving today's economy.
One of the key points Jeff discussed centered around if the tenant, customer, or enterprise truly understands their data. Not all data is created equal. Critical questions that must be considered include:
Are there latency-sensitive requirements?
Is the content sensitive?
Is there an intellectual property risk?
Does a multi-tenant environment work for this situation?
Will AWS, Azure or Google Cloud be employed?
Can the workloads handle that inherent latency?
Why Partnership-as-a-Service is Vital
The questions are incredibly complex and there are no easy answers. Every single enterprise struggles with them, Jeff says. Providing solutions to many of those concerns is what led to Prime Data Centers' theme of Partnership-as-a-Service. There is no one-size-fits-all and, in fact, it's most likely a combination of all of those examples in the enterprise, adds Jeff. The Prime Data Centers team offers everything from wholesale colocation, joint ventures, powered shell, build-to-suit and sale/lease-back. The team can customize specific solutions within those options based on workloads and the nature of the data, whether it's rich media, relational databases, or file systems – which all need to be treated differently.
The Importance of Location and Disaster Recovery
Another consideration in build-to-suit options for customers in California is disaster recovery. "Location and proximity are critical. Having a data center 50 miles from your primary data center as your backup is a great strategy unless it's on the same fault line. You also have to ask, 'can my employees get to that site?' It's the proximity of core data, the stability of the environment, the availability of power and connectivity. All of those considerations enter into where Prime chooses to invest. The closer, the better, but be far enough away to protect yourself. And if you have a disaster recovery plan, you have to test it. Don't leave it on the desk collecting dust," comments Jeff.
To learn more about Prime Data Centers and its Partnership-as-a-Service, watch the full Data Movers interview here or listen to the podcast now.