Prime Data Centers FAQ provides quick, easy answers to the questions we get most often.
What is your ideal customer size?
We are a wholesale data center real estate developer, so our ideal customer size is a mid-to-large enterprise or retail colocation provider/managed services partner that has a need of 500kW critical or larger.  This is not a "rule" however, it really comes down to the need for value-added services such as monitoring, break/fix, etc… If the customer handles these items directly, wholesale leases may be a great way to save significant money.  Typically, projects smaller than 500kW are categorized as "retail colocation". Prime can also provide traditional retail colocation through one of our service partners. Get in touch with us today and we can discuss your particular needs and recommend a solution. 
Can we sell you data center equipment?
If you're a vendor to data centers, feel free to get in touch with us at info [at] primedatacenters [dot] com.
Where are your data centers located?
We currently have 3 locations, all in California. We have a new data center campus in McClellan Park, Sacramento, which is ready for move-in. We are breaking ground on construction on a new data center in the heart of Santa Clara, in Silicon Valley. Finally, we have a fully operational and fully occupied data center in Hayward.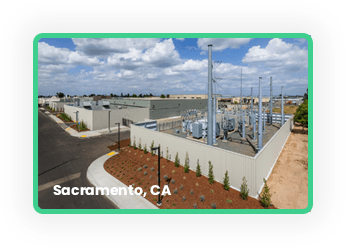 Do you buy data centers, operate them, or sell them?
All of the above! Prime routinely conducts "Sale-Leaseback" transactions.  This is where we will buy a facility and lease it back to the Enterprise customer.  We design and build "speculative" data centers such as we have in Sacramento today (currently taking lease applications for up to 8MW critical).  In addition, we complete "turn-key" projects where we build a facility to your exact specifications and simply turn over the keys to you.  Prime is always interested in discussing new opportunities around the globe.
What is your pricing?
Unlike many retail colocation providers, we do not price electric power in "blocks" of 300 or 500kW. We meter your specific power usage and pass that cost through directly to you. In addition, our expertise enables us to build ultra-efficient facilities with a PUE typically under 1.3.  Depending on the size and term of the lease, our typical price range is $110-120/kW.  Your mileage will vary on this, so be certain to reach out to us for more specifics. 
Which electric utilities feed your data centers?
Sacramento: SMUD
Santa Clara: Silicon Valley Power
Hayward: EBCE
Are your data centers carrier neutral?
Yes, Prime is carrier neutral. We have contracts and connectivity today with all of the larger carriers such as Wave, Zayo, Cogent, Century Link and others.
What types of leases do you typically sign?
Our ideal lease is a 5-10 year NNN or modified-gross. For more detail on data center lease types, read our guest blog post for Data Center Post.
Do you provide data center consulting services?
We are happy to consult with you for free to see if we can tailor a data center real estate solution to your needs. However, we do not sell data center consulting services, or even data center management services. For "racking and stacking" needs, we often partner with Salute Mission Critical. To get more detail on our data center solutions, check out our page.
Are you hiring?
We're always interested in talking to skilled candidates. Please follow us on LinkedIn and AngelList for the latest careers news. You can also send us a note: careers [at] primedatacenters [dot] com.
Which companies does Prime Data Centers partner with?
Our partners are listed on our Partnership page. If you'd like to partner with us, get in touch and tell us why.
Do your data centers have any sustainability certifications?
Since getting a data center certified depends in part on the customers, we'd be happy to work with you to achieve the particular certification you desire.