When your company is evaluating adding new data center capacity, one of the first project scoping decisions to make is whether you need simple retail colocation or something closer to wholesale.
As one would assume, the market is dominated by retail colo by volume. As a result, many companies start their search there, assuming that their needs aren't big enough to require a solution approaching wholesale.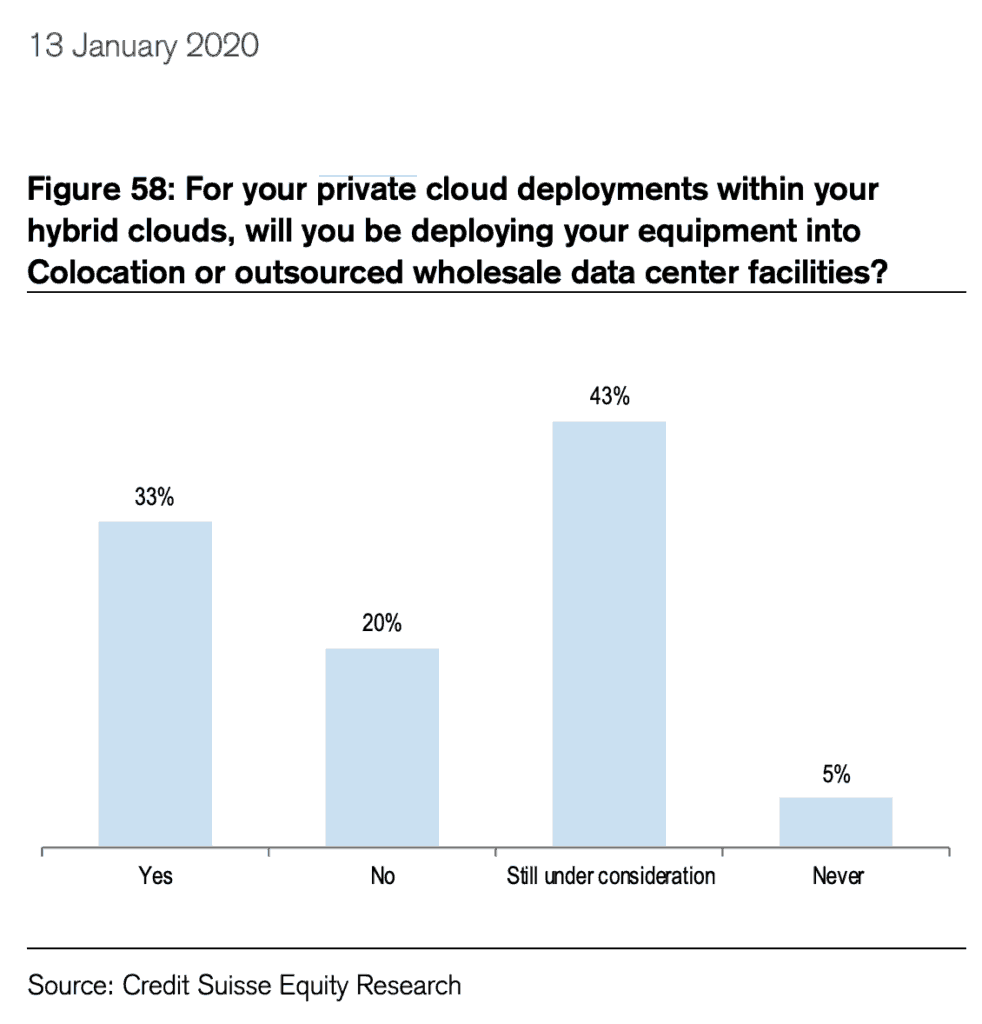 But what is the threshold? And what key trade-offs should we keep in mind?
Too Many Companies Jump to Retail Colo Assumption
The threshold between retail colo and wholesale is typically around 500kW. Any smaller than that is retail colo, any larger is wholesale. What other threshold data points are there?
~30 racks
Mission-critical workload
SLAs to internal customers/stakeholders
SLAs to external customers (retail colo might only guarantee four 9s of uptime)
Desire to take advantage of real estate ownership/equity
Ability to negotiate non-disturbance clauses, common in lease docs, but not MSAs
Whether or not you need services like smart-hands services, monitoring, drive and tape swaps, repair management, etc. (Although you can always contract for those services even if you enter into a wholesale lease.)
While many new projects meet at least one of the criteria above, we're still seeing many of those companies assume that they should be only evaluating retail colo.
Retail Colo vs Wholesale Tradeoffs
If your needs place you somewhere between retail and wholesale, you'd be wise to consider the important trade-offs.
Retail gives you more short-term flexibility, with less up-front CAPEX. It's a great solution for relatively small or short-term needs or for companies that don't have the resources to provide any of their own data center services and want to fully outsource.
Wholesale gives you more control, and can greatly increase your longer-term return on investment.
The control comes into play if you have highly customized needs, or if you want the ability to secure space to grow into.
The longer-term ROI applies when you can achieve your own equipment and services cost advantages, or when you can create an equity stake in your data center real estate and leverage an implied lease cost reduction and tax incentives. We've written more about that here.
Advantages of a Lease vs Retail Colo MSA

For a retail colocation relationship, the main legal document is a Master Services Agreement ("MSA"). The basic advantage of a lease versus just an MSA is that a lease provides a more "secure" set of rights for both a landlord and a tenant, because a lease is, in addition to a contract, also a conveyance of property rights.
If a property is sold, as a matter of law, the new owner will clearly take title to the underlying real property subject to a lease of space within that property, whether or not the lease is separately assigned to and assumed by the new owner.
The above is also generally true in the case of a foreclosure.
Also, with a few exceptions (such as Texas) most states (including California) significantly limit the right of a landlord under a lease to engage in certain "self-help" type conduct – such as locking a tenant out or cutting off utilities or services for an alleged default. This is not the case with an MSA.
It is generally more difficult for a landlord to terminate a lease following an alleged tenant default. Specific procedures must be followed rather strictly, and judges tend to look for ways to avoid loss of a leasehold – and as a grant of property rights, a lease is not cleanly terminated absent a judicial determination or an agreement to terminate.
State laws tend to limit a landlord's remedies following termination of a lease as a result of a default. For example, many states (such as California) build a rather specific duty to mitigate damages into the statutory remedies that are available.
Tenants under a lease tend to have remedies or defenses (such as constructive eviction) claims that are not available under pure MSA contracts.
If you are a company with dedicated IT staff and critical workloads which require your direct attention and management, co-location may not be for you. In many cases, the SLA's provided by co-location services are inferior to uptime and upgrade SLA's you can achieve by managing your own infrastructure and applications directly.
Considering a wholesale lease may be the right solution for your needs.
You can eliminate the costs of direct facilities management and maintenance, but still manage and maintain your IT environment directly. Wholesale providers may even purchase your data center and lease it back to you (called a "sale-leaseback"). There are many potential tax advantages as well when considering a wholesale provider in a Qualified Opportunity Zone. Essentially, going the wholesale route enables you to reduce your real-estate overhead while maintaining direct control over your IT infrastructure.
The above wholesale lease advantages over a retail colocation agreement are especially relevant for highly regulated, risk-averse industries, like financial services and healthcare.
Conclusion
A retail colocation agreement means you take on contingent liabilities that are dependent on factors completely out of your control. That may be acceptable given your needs, but make sure before you sign anything. If your retail colo provider goes under or the data center goes under, both unlikely events, you may see some restrictions on your service without any legal protection. You might even suffer a fairly catastrophic loss of service. On the other hand, separating out the two agreements (real estate versus service) means that you'll have a better chance of avoiding serious disruptions.
If your needs meet any of the following thresholds, you may want to give greater consideration to a wholesale solution:
>500 kW
~30+ racks
Mission-critical environments where five-9's are expected
Desire the legal protection provided by a traditional lease versus MSA
Solution design for things like hyper-converged infrastructure or scale-out storage and servers (a tailored environment to accommodate today's hyper-converged infrastructure and scale-out storage)
Prime Data Centers specializes in wholesale data center development. Whether build-to-suit, powered-shell, or otherwise. We do often speak with retail colocation brands who might be looking to add a new facility to their portfolio. If we can help you out with your decision process, even just as a sounding board, we're happy to help.