The healthcare industry has been one of the fastest-growing industries in the greater Sacramento region over the past few years. The Sacramento Bee reports the following impressive numbers:
| | | |
| --- | --- | --- |
| Company | Sacramento-Area Employees (2018) | Growth Rate Since 2014 |
| Kaiser Permanente | 16,959 | 92% |
| UC Davis Health | 13,012 | 44% |
| Sutter Health | 12,138 | 16% |
| Dignity Health | 7,000 | 0% |
| Health Net Inc. (now Centene) | 3,000 (5k after the Centene acquisition) | 30% |
| VSP Global | 2,700 | 13% |
| Blue Shield of California | 2,319 | 26% |
| Eskaton | 1,347 | 14% |
With this impressive growth, plus the ongoing macro-trend of digitizing healthcare, the need for sophisticated California healthcare data center management options in the Sacramento area in 2020 is greater than ever.
If you're feeling this need, this post will help guide you through the key decision considerations in order to make the best decision for your company.
The First Decision: Buy vs. Build
The buy vs. build question is a broad strategic question that companies of all industries have debated for a long time. It applies directly to data management and IT strategy for the healthcare industry in 2020. The question boils down to the pros and cons of renting cloud infrastructure (using a service like Amazon Web Services, Microsoft Azure, or Google Cloud) versus building your own data infrastructure.
Some of the comparative advantages of building your own for the healthcare industry are:
Less vendor lock-in: When you control your physical data infrastructure, you have far greater freedom. There's no vendor lock-in which can make you very vulnerable to cost inflation. It also means that as your hardware needs change, you can adapt far more quickly and in a far more purpose-built fashion.
Potential for significant long-term financial advantages: Just like buying a car instead of leasing can lead to a significantly lower total cost of ownership of the vehicle over a multi-year timeline, so can building your own data center instead of renting cloud storage. Especially when you factor in the very real financial advantages of greater predictability and control, as well as potential tax advantages and capital gains.
Greater control: In this macro business and legislative environment of accelerating change and increasing uncertainty, having direct control over your business' most important assets is becoming an important advantage. It also reduces your vulnerabilities.
Let's say that your company has run the cost/benefit analysis above and has decided to go the build-your-own route, as many other companies recently have. What are the primary considerations? We break down a few below.
Top 4 Data Center Needs of Healthcare Companies
Healthcare companies have unique data management and infrastructure needs. Primary amongst those are:
Low-latency: With the proliferation of medical devices in use in the field and the advance of IoT, healthcare company IT teams are under increasing pressure to develop an IT infrastructure that supports very low-latency, in order to ensure a successful user experience.
Reliability: Reliability takes many forms in regards to California data center site selection. Some of the most important are:

Risk of natural disaster such as earthquake, fire, flood.
Risk of power supply interruption.
Risk of telecom carrier interruption.

Affordable scalability: With the exponential growth of healthcare data, large healthcare companies need scalability. While HIPAA-compliant cloud services providers are convenient for smaller needs, large companies will increasingly want to build their own intelligently scalable solutions that don't lock them into a particular vendor who can raise prices.
Privacy/compliance: The Health Insurance Portability and Accountability Act (HIPAA) has requirements for both the hardware and software sides of healthcare data management and compliance. Controlling your infrastructure with approved IT standards leads to greater reliability, predictable application performance, and enables better governance.
Data Center Site Selection Considerations for Healthcare Companies
Given the top 4 data center needs discussed above, let's look at how geography and site selection can maximize your benefits.
Latency: Geographic location has a huge impact on data latency. The greater the geographical distance between your data center and your edge users, the greater the latency, all other variables held constant. With California's large and tech-savvy population, you'll want to ensure that your data center is close to your California customers, without compromising on seismic risk as we discuss below.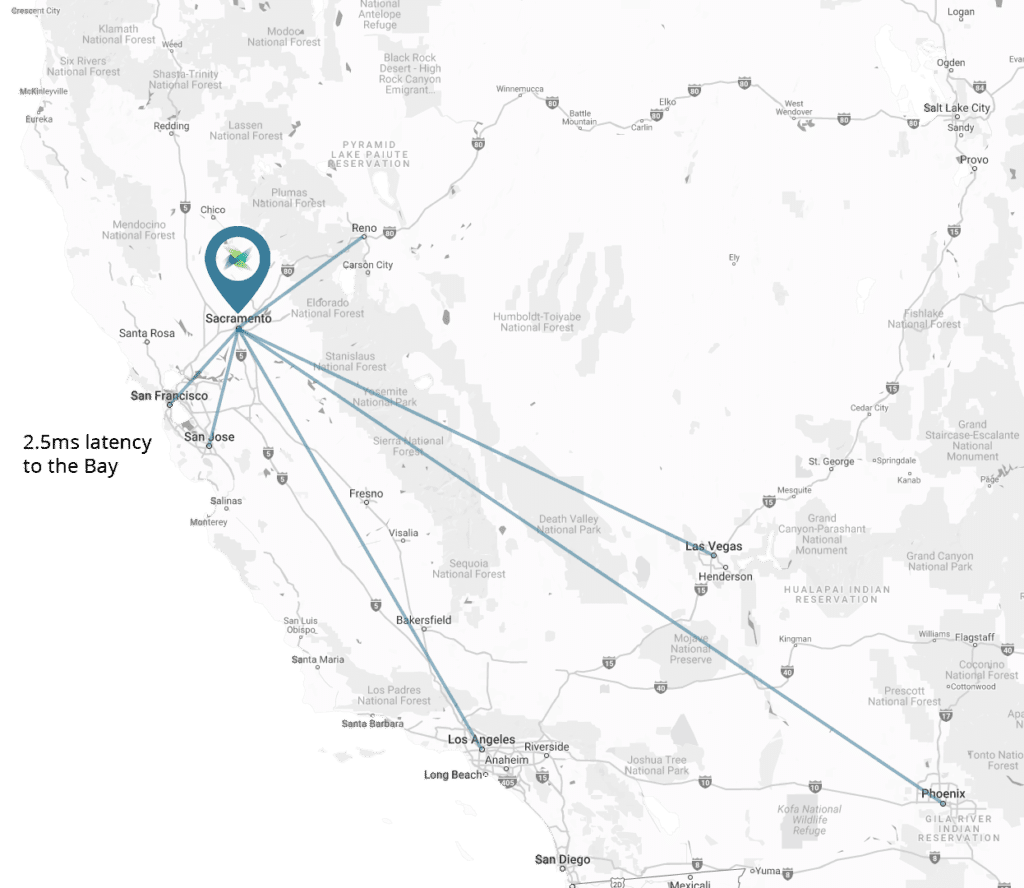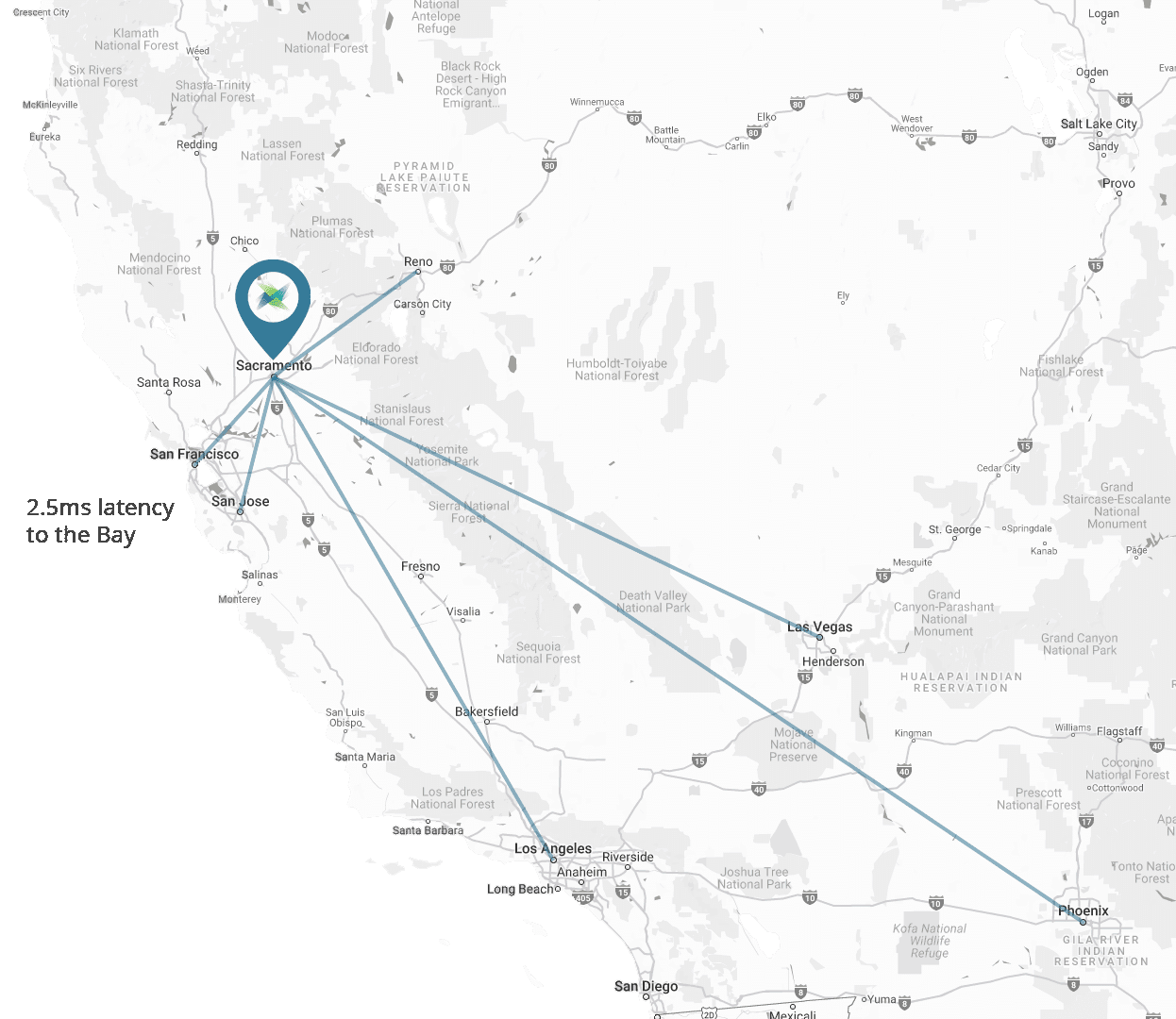 Reliability: The main reliability considerations during your site selection have to do with natural disasters and key suppliers (like telecommunication providers and energy utilities). Your chosen site should not be in a seismically active area, which eliminates much of the state of California. The greater Sacramento-area and the Central Valley are the least seismically active areas of the state of California. Fire risk is also top-of-mind these days and for good reason. The greater Sacramento-area and the Central Valley also have some of the lowest risk of wildfire in the state. As far as telecoms, you'll want to find a carrier-neutral facility, with fiber optics in and out. Finally, with regard to energy utilities, you'll want a facility that gets its power from a highly reliable utility. SMUD is considered one of, if not the most, reliable utilities in the state of California, as well as 100% renewable energy options. You'll also want a facility with a significant backup power generation capacity, and ideally its own substation.
Affordable Scalability: Most experts agree that the data center needs of California healthcare companies are not going to decrease anytime soon. One of the major downsides with the buy option in our buy vs. build analysis is that while cloud providers like Google Cloud are almost infinitely scalable, the costs inflate painfully as you scale. That's one of many reasons why more companies are choosing to build. When you do choose to build, make sure that your chosen site offers everything up to a hyper-scale solution. Pay close attention to two specific expansion variables: acreage and MVA (mega volt amps). How much acreage and MVA do you need? For hyper-scale expandability, you'll want at least 50 MVA and at least 30 acres of land.
Privacy/compliance: The most effective kind of database disaster recovery plan is one that is never needed. The geographical site selection of your data center will in large part determine your risk of natural disaster. If you choose a site with uncommonly low risk of fire, flood, and earthquake, as well as uncommonly low risk of physical breach or power supply interruption, you will minimize the risk to your company of a lawsuit.
Conclusion
After you've run your California data center site selection analysis, you'll find that the greater Sacramento area emerges as your best option. In fact, it is one of the best options in the entire western United States. It ranks highly for every major healthcare company data center site selection criteria.
Prime Data Centers also emerges as your best Sacramento area data center development partner. We'd love to learn more about your business and show you how you and your company can stand to benefit from partnering with us in Sacramento. Contact us today to get started.